Planning a Christmas party this year? Whether you're keeping things low-key or going for an all-out celebration, it's never too early to get organised. And if you get it right, funny memories of your party will crop up in conversation years after the event.
We know that working out how to plan a Christmas party can feel like a balancing act. Along with sorting all the food, drink and finer details, you've got to make sure that the night is enjoyable for everyone. It's a lot to take on if you're the sole party planner, so why not let us lend a hand?
In this blog post, we cover everything you didn't know about booking private entertainment for your upcoming Christmas party. If you want thrills, chills and spills, we've got you covered.
What could a buff butler bring to a Christmas party?
We understand that you might have a few reservations about booking a naked butler for your Christmas party. And since at least 10% of people admit to attending work Christmas parties 'reluctantly', it's hardly surprising if you're wondering how to keep everyone happy.
But if uninterrupted private entertainment sounds like the right fit for your party, you'll be amazed at what a naked butler can provide. Whether he's with you for the whole evening or just an hour, a naked butler will be on hand to charm you and your guests and spruce up any Christmas party with refreshments, games, and his good looks too.
When you book a butler in the buff for your festive gathering, you'll receive a personalised service. Here are just a few of the ways we could spice up your Christmas party:
Christmas cocktail lessons
Who said cocktails are just for summer? We've adjusted our cocktail menu to ensure that you get a delicious tipple when you book our cocktail lessons, even on the coldest nights.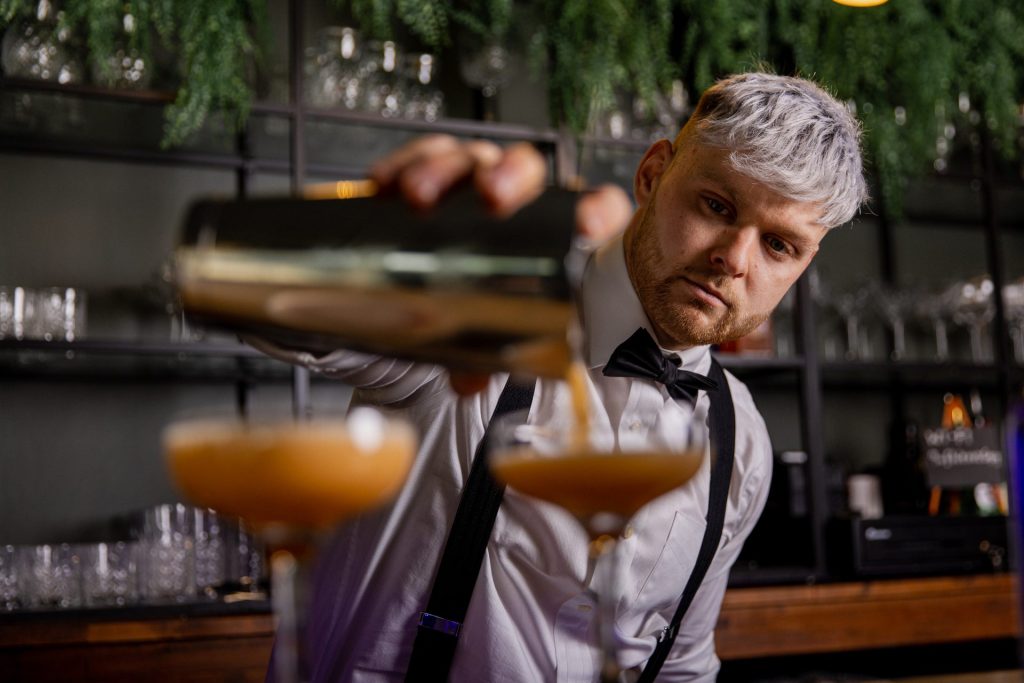 Certain spirits make fantastic winter warmers. If you're looking to hunker down and keep cosy while you enjoy being entertained by one of our butlers, we'll raise a toast to the season. Whether you'd like to serve whiskey on the rocks, brew a hot toddy or sip a smoked Old Fashioned by the fire, we can help bring your vision to life.
Life drawing
Life drawing doesn't need to be serious. When you book a life model for your Christmas party, we'll promise to provide an unforgettable evening that's jam-packed with surprises.
You should expect to see some of the usual poses – you can almost imagine your gorgeous, hunky host reclining on a chaise longue already – but we'll throw in a few naughty extras too. From light-hearted party games to sharing stories of romance, trouble, and everything in between, we're here to get the party started. Ready to embrace your artistic side?
Party games and fizz
Our professional butlers know how to set the pace. We can't wait to show you our repertoire of hilarious, sexy and slightly outrageous party games when you book a butler in the buff for your Christmas party.
No matter the size of your group, we're ready to help you relax and start your festivities off right. We'll show you how to play our favourite party games, keeping your glasses topped up through the evening. If you'd like to be impressed and entertained, we're the right agency for you.
How do I know if booking a naked butler is the right choice?
We're here to put your mind at ease. Of course, when we attend private venues after our guests book a male stripper or a life drawing session, some cheekiness is expected. But what a lot of our prospective customers don't know is that no matter which package you book, the session can be as tame or as raunchy as you'd like it to be.
Before you finalise a date and time with the Butler Direct team, we'll get in touch to find out what sort of party you're looking for. We can tailor our service according to the needs and preferences of your group, and we'll always respect your boundaries. We don't need to be nearly naked to give you a great time.
Don't assume that you need to be a group of girls to enjoy our services, either. After just a quick scroll through our reviews on Trustpilot, it's easy to see that we're simply there to help you enjoy the party. Whether you're inviting the grandparents or you've gathered a big group of girls together, it's always worth taking a shot in the dark and encouraging your guests to try something new.
Can I book a naked butler near me?
Yes! We're pleased to offer ultimate flexibility across all our packages. We have butlers working in towns across the UK, and we're happy to drive to rural locations too. Some of our recent bookings have seen our naked butlers in Edinburgh, Harrogate and Lancaster – and your hometown could be next.
Whether it's an artistic package or just drinks for your Christmas party, we travel to your home or a private venue of your choice. When you book with Butler Direct, we'll bring the party to you.
What's different about Butler Direct?
There are plenty of other agencies offering naked butler services for private functions, but we're proud to do things differently. When you book with Butler Direct, you get to choose your butler before your party. We'll recommend a specific butler if you're not sure who to pick, and in that case, we'll do our best to match you with someone perfectly suited to your evening.
No matter which butler you get, you can rest assured that he's a trained professional. Our butlers know how to add magic to any Christmas party and get you warmed up for the seasonal festivities to come.
If you have any more questions about how we work, please don't hesitate to get in touch with the Butler Direct team.